About Us
Detailed below are the senior management of Management Inspirations Limited.
Robert Carpenter FCA FIoD CertCII FRSA - CEO
Robert was educated at Hurstpierpoint College in West Sussex. He qualified as a Chartered Accountant in 1991 at Brebner, Allen & Trapp in Hove, East Sussex. He immediately moved into the media industry, working for many of The Press Association group subsidiaries, being appointed Finance Director in 1993 at the age of 29. This was followed by a number of Finance Director and Company Secretary positions for AMV.BBDO group subsidiaries.
He became a Fellow of the ICAEW in 2001 and joined the Institute of Directors in 1995, becoming a Fellow in 2003.
During his time as an auditor, from 1984 to 1991, he had the opportunity to get involved in organisations across many business markets. Working for a number of smaller firms of Chartered Accountants gave him in depth knowledge of the clients he worked for.
Over the next 13 years he worked for a number of companies in positions of both Financial and General Management as Finance Director, Deputy Managing Director and Company Secretary. He has a very strong understanding of directorial responsibility, business strategy, reorganisation, cost controls, budgeting, medium-term forecasting and business development.
Using all these skills he has concentrated his energies to ensure that each business has a sound base for development, growth, profitability and long-term success.
Having attended hundreds of Board Meetings, and taken Minutes as necessary, reporting on the financial and management of those businesses, allowed him to experience business at the highest level. He has also chaired many of the management teams including Operational Boards.
On the reorganisation side he has managed redundancy programs for many of the businesses, chairing the consultation processes. How this process is dealt with has not only a direct impact on the staff leaving, but also on those still employed and therefore needs to be dealt with sensitively and professionally.
He has dealt with many company acquisitions, disposals and mergers, including TUPE requirements. From 1993 to 2004 he reported to a least two Chief Executives at any one time, teaching him the art of time management and quality of information reporting.
In 2004 he decided to set up his own consultancy, Management Inspirations Limited together with his father Paul.
In 2005 Robert was invited to become a Fellow of The Royal Society for the encouragement of Arts, Manufacture and Commerce, and 2015 become a Certified Member of the Chartered Insurance Institute.
Paul Carpenter FCA FCMA ACIS FCMI - Consultant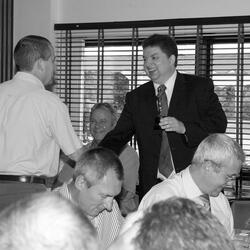 Paul was educated at Colston's School in Bristol, after which he was articled in a medium sized provisional practice.
Since qualifying as a Chartered Accountant, his career included four years with KPMG in London, followed by three years with a major public group as a Divisional Accountant and seven years with a group of companies in Bristol, ultimately as Finance Director.
In 1970 he joined Reed Executive plc as a Senior Consultant of its executive selection subsidiary and then as a Director, leaving in 1972 to become a joint founder of Phillips & Carpenter - recruitment and selection consultants.
Paul is also a Fellow Chartered Institute of Management Accountants, a Chartered Company Secretary and a Fellow of the Chartered Management Institute.
In 2004 he joined Robert when they set up Management Inspirations Limited. Having now retired as a Director and Company Secretary, Paul remains available to the company as a specialist consultant.